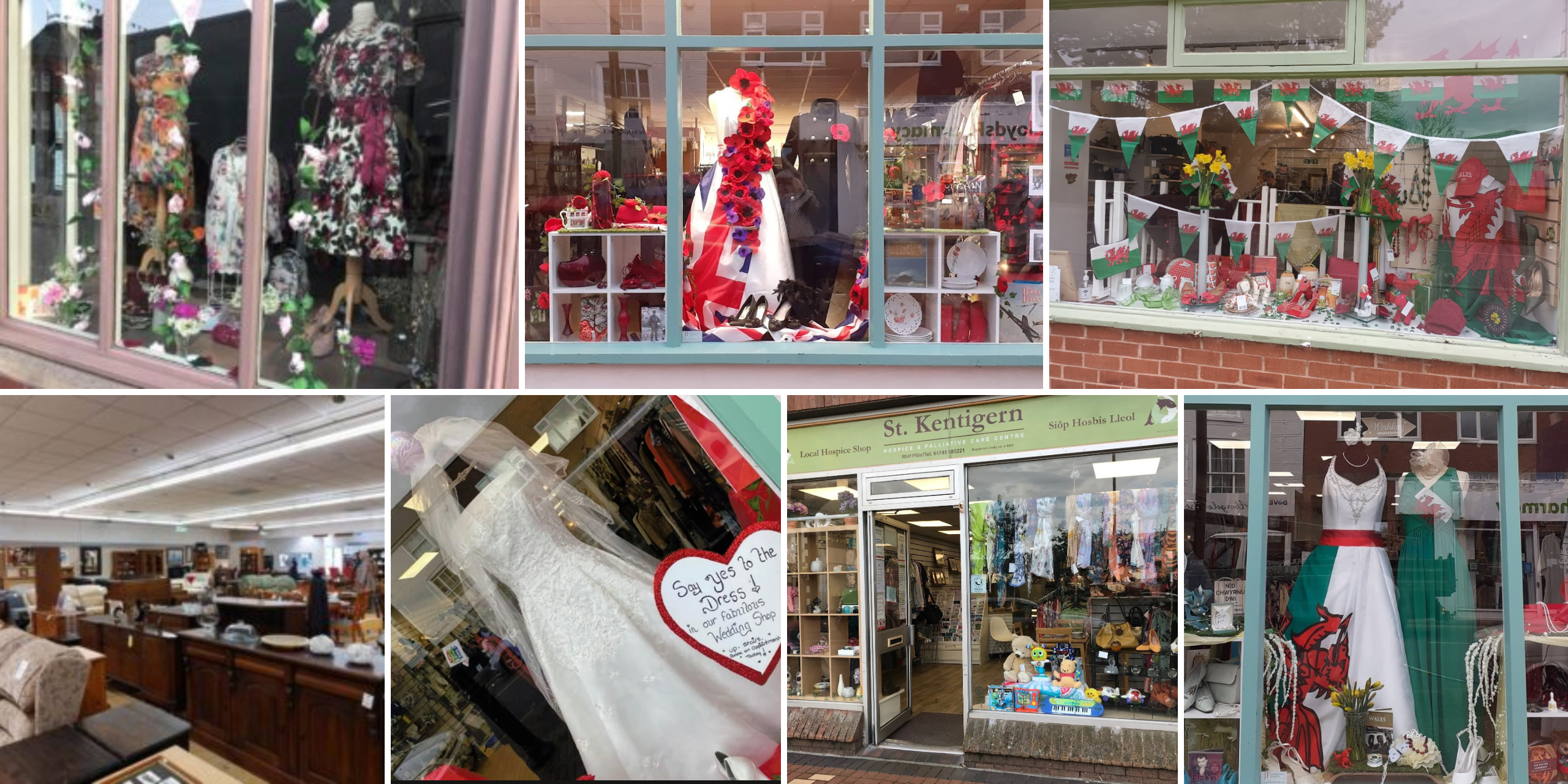 Our Shops
Our preloved shops play a vital part in generating income for the hospice. Our area stretches from Flint along the North Wales coast and then inland as far as Ruthin.
Your Local St Kentigern Hospice Shop
The preloved retail sector is built on the principles of reusing and recycling "preloved" items and reducing the amount of waste that ends up in a landfill. Recent years has seen a shift in consumer shopping habits, resulting in an increased awareness around sustainability. Our shops stretch from Flint along the North Wales coast and then inland as far as Ruthin. Thanks to the generous donations from our wonderful communities, the money raised from our shops goes towards providing specialist palliative and end of life care which the hospice has provided since 1995.
Preloved shops are the ideal place to recycle used clothing, furniture, accessories, and other items that would end up in landfills. Instead of throwing away unwanted items, people can donate them to preloved shops, where they have a second chance to be reused. According to Wrap (https://wrap.org.uk/resources/guide/textiles), around 350,000 tonnes of used clothing goes to a landfill every year, estimated to be £140 million worth of items that could be reused and recycled.
The disposal of millions of items in the UK has a significant impact on the environment. The fifth-biggest carbon footprint of any UK business sector is the clothing industry (https://clothesaid.co.uk/about-us/facts-on-clothes-recycling/)
Around 350,000 tonnes of used clothing ends up in a landfill every year
Two-thirds of UK consumers are willing to wear more second-hand clothes
30% of our unwanted clothing currently goes to landfill
700,000 tonnes of clothing are donated to textile banks, charities and recycling centres each year (enough to fill 459 Olympic-size swimming pools)
What is Gift Aid?
Did you know you can add a gift aid declaration to your donations? Gift Aid is one of the simplest and most effective ways of giving to charity. It is a government scheme which allows charities to claim 25p for every £1 that you donate. So, for example, if you donate £20, we can claim an extra £5, making your gift to St. Kentigern Hospice worth £25.
When you provide a Gift Aid declaration, it will cover all of the eligible donations you have given us in the last four years and on any donation you may make in the future, so only one declaration is required. It won't cost you an extra penny, and all you have to do is tick the box.
To claim Gift Aid on your donation, we will need:
Your name and address
You to declare that you pay tax in the UK of an amount at least equal to the donation you are making (those who pay no tax shouldn't use the Gift Aid scheme).
Your signature (or a box ticked if it's online) and the date.
For more information on Gift Aid please see www.stkentigernhospice.co.uk/gift-aid/
Our Ebay Store
Head over to our St Kentigern Hospice Ebay store for amazing deals. Every purchase directly contributes to providing essential services, end-of-life care, and support for patients and their families during challenging times. Now you can support the Hospice online!