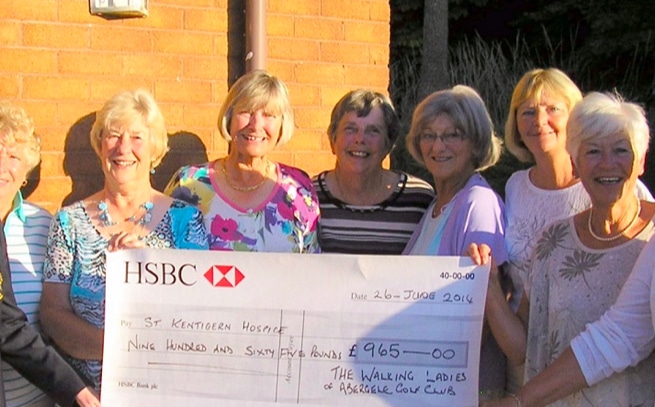 Volunteering
Volunteering is a great way to support St Kentigern Hospice. Whether you would like to volunteer on your own or as a group, we have plenty of opportunities for you to get involved.
Opportunities to Volunteer
Volunteering takes many forms and is performed by a wide range of people. We are extremely grateful to all of our volunteers and the marvellous work they do. Here are just some of the ways you can help
(Please note, due to current Welsh Government guidelines, some of these roles are not currently active. Please contact us for more information)
Reception: 
A vitally important role, as the receptionist is often the first point of contact for anyone ringing or visiting the Hospice, answering the telephone, dealing with enquiries, and passing on messages.
Fundraising & Events:
Our fundraising team work tirelessly to raise the funds to maintain hospice services at St Kentigern. Volunteers are very valuable to the team in both administration roles in the office, to helping at events from marshalling to bucket collecting and to aid with promotion of the hospice. Our Volunteer Support Groups are a fantastic way to support the Hospice through fundraising. Call the Fundraising team on 01745 585221 to find out more about how you can help.
Day Therapy Unit:
Volunteers help with general tasks, talking with patients and serving meals.
Drivers:
Volunteer Drivers are needed to transport patients to and from the hospice, generally once a week. Drivers need fully comprehensive car insurance, a valid driving license and permission from their insurance company to use their own car for this purpose. Fuel expenses can be claimed with this role.
Retail
We are always looking for assistance in our charity shops across the area. If you have a couple of hours to spare each week and would like to join our friendly team, call Val Corner on 01745 583170
In-Patient Unit:
Volunteers help with a variety of tasks as supporting nursing staff. These might include answering the door, giving help to patients, their relatives or visitors, arranging flowers, answering the telephone, and other duties as required. Full support and training will be provided for this role
To apply for a volunteer role please complete our application form and email it to mail@stkentigernhospice.org.uk