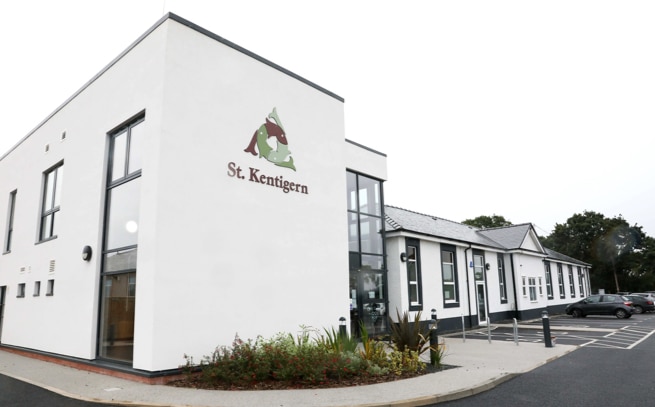 About us
We are a registered charity, founded and supported by the local community. Our Day Unit was first opened in 1995 through the commitment and vision of a dedicated group of fundraisers.
About us
St Kentigern Hospice is a local charity providing care and support for patients with a life limiting illness across North East Wales. Taking in Colwyn Bay in the west along the coast to Northop in the East and inland encompassing Abergele, Denbigh, Ruthin and Corwen.
In 2020, after 25 years of supporting the local Community, the Hospice completed a major expansion increasing the number of beds available from 8 to 12. The new Inpatient Unit reopened to the public in March 2020 providing specialist care 24 hours a day, 365 days a year. The expansion included updating the Hospice gardens, incorporating much needed office space, the build and refurbishment of the Day Therapy rooms and the build of a new café on site.
St Kentigern Hospice provides specialist palliative care to patients and support for families to meet their individual needs. Through a multidisciplinary team including nurses, doctors, a physiotherapist, an occupational therapist, a chaplain, a social worker, a counsellor (offering both pre and post bereavement support), dementia specialists as well as complementary and other therapists, our dedicated team will work alongside patients and their families with the aim of helping them to achieve their goals, and understand what matters to them.
Nurse-led Model of Care
In this quiet corner of North Wales something ground breaking has been taking place over the last 10 years. This is the Nurse Led Model of Hospice Care. We are proud of our innovative and pioneering model of care led by a Consultant Nurse. St Kentigern Hospice employ the only Consultant Nurse in Palliative Care in Wales. Our model of care provides excellence in palliation by a truly multi-disciplinary team. The model has been recognised nationally and internationally with interest from as far afield as the antipodes. The nurse led model of care gives value for our community, ensuring a successful and sustainable service for the future.