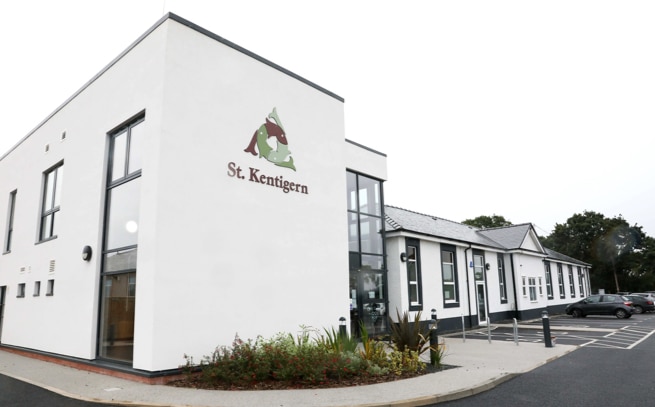 Wellbeing Hwb
The hospice is not just a building, it is a philosophy with emphasis on care, compassion and respect for each person. We aim to provide quality care centred on the needs of our patients, their families and their carers.
Wellbeing Hwb
St Kentigern  Wellbeing Hwb is physiotherapist lead. The philosophy of our day therapies unit is re-enable, recondition and enrich the lives of our patients and their carers. Our newly expanded and refurbished facilities offer a wide range of classes to include fatigue, anxiety and breathlessness management, art therapy, complimentary therapy, social activities, patient and carer education. People with any life limiting illness are welcome, including people living with dementia. We have an Admiral Nurse who is a specialist in dementia care and provides support not only for people living with dementia but their carers as well.
Wellbeing Hwb services are provided between 10am and 3pm, Monday to Friday. The team aim to provide assessments of symptoms including, pain, nausea and vomiting, breathlessness, constipation and other complications arising from their illness or their treatments, for example, chemotherapy, radiotherapy, hormone treatment.
We also offer the chance to partake in creative activities including art therapy and games as well as the chance to meet new people and explore new hobbies. For more information about how to access our Wellbeing Hwb service, call the Hospice on 01745 585221.
Please note: Due to COVID restrictions some of these activities have been paused. For more information please call the Hospice on 01745 585221