Thank you to our Hospice Champions, Mark Powell and Jonathan Thomas who have raised an incredible £7,650.00 by walking 127km of a pilgrimage route in northern Spain for the hospice.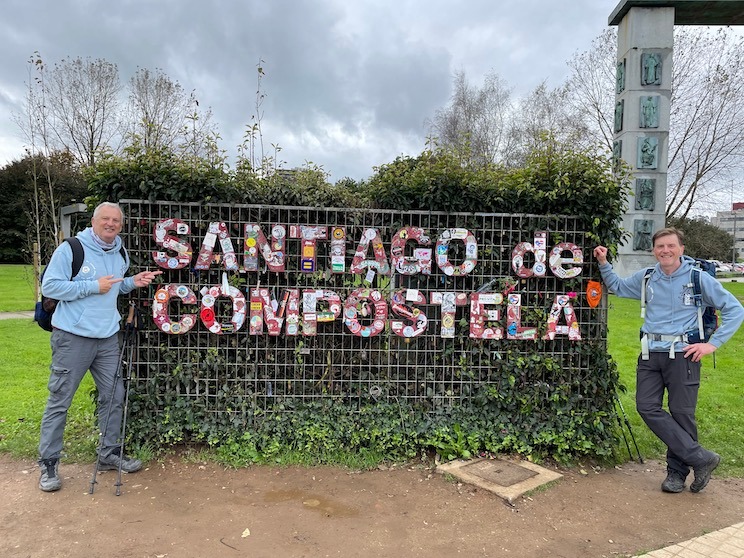 Jonathan Thomas and Mark Powell, who have known each other since their time at the Rhyl branch of Barclays Bank, set off on a stretch of the Camino Frances trek, one of the nine Camino de Santiago routes, on Sunday, October 24, and arrived at Santiago de Compostela six days and more than 180,000 steps later.
Special thanks to Barclays who pledged to match much of their proceeds.Mark said: "After a five-hour train journey from Madrid, we had a good night's sleep to set us up for our trek.
"On a damp and misty Monday morning, we took our first tentative steps along the well-signposted route towards Portomarin and by the end of the first day, we'd covered 21.13km.
"We saw a good number of Peregrinos (pilgrims) along the way – the youngest was a young French girl aged 10 walking with her parents, to a 70-year-old man from Slovakia who started in Biarritz on September 21 and expected to walk 830km by the time he finished! "Would we do it again? Never say never!"
Widely considered one of the three most significant pilgrimages in Christendom, roughly 250,000 people make all or part of the 800km-long Camino Frances each year, with the most popular starting point being Sarria, where Jonathan and Mark started.The rest of their journey consisted of:
Day Two – Portomarin to Palas del Rei (27.62km)
Day Three – Palas del Rei to Melide (16.03km)
Thank you for all your support.