In your early twenties, hospice care and talking about death should be the last thing on your mind, but sadly, for Elin Jones (Ellie) from Cwm, Dyserth, this was the reality.
When her family needed it most, Ellie's eyes were opened to the exceptional care the local charity provides.
In 2013, Ellie's mum, Jo Jones, who worked as a medical professional as a nurse and midwife at Glan Clwyd Hospital, passed away at the hospice after receiving care at St Kentigern Hospice, St Asaph. Now Ellie wants to mark the tenth anniversary with a unique challenge.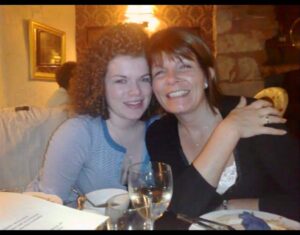 "This July marks 10 years since my incredible Mum, passed away. The care she, and myself and family, received from St Kentigern Hospice during the last few weeks of her life was exceptional and will never be forgotten. Because of St Kentigern's kindness and generosity my Mum was comfortable and well looked after every moment of every day.
On the 21st May, I am taking on Chester's half marathon. This will be my first half marathon and I'm not really built for running but I wanted to mark the 10years with something big, something that will encourage people to dig deep and support the hospice.
Because of St. Kentigern and the wonderful staff my Mum was exceptionally well looked after and I was able to spend every minute of every day with her, for which I cannot explain how grateful I am.
It will never be forgotten by myself or my family. Which is exactly why all my donations will be coming straight to St. Kentigern Hospice."
If you would like to keep up with Ellie's progress and sponsor her first half marathon head over to her JustGiving page: www.justgiving.com/fundraising/EllieJ2023