A HUGE thank you to Cai Hughes who shaved his head (and beard) to raise £1,365.17 for the hospice. Cai Hughes, 18, who works at the Ffordd Derwen Pub in Rhyl, lost his locks at the pub on Friday 17 March after growing his hair for roughly 10 months.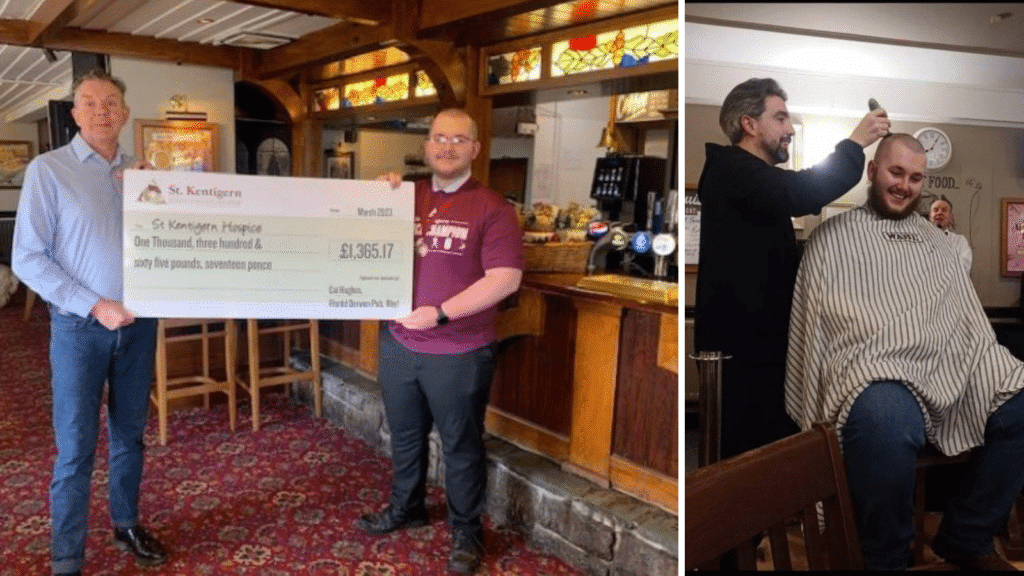 Cai, originally from Abergele said: "It was relieving – there was a lot of hair! I've never been close to having it that long before. It was only in about November that I thought, if I kept growing it, I could shave it off for charity. My usual barber, Jack at Jack's Barbers in Abergele cut it for me.
"I'm so shocked that we raised £1,365.17, especially as the target was £500 – I didn't think it would raise that much, but we've done very well. About two or three years ago, I did a sponsored walk at Moel Famau for St Kentigern, and I'd heard a lot of people praise them for looking after their relatives, so thought it would be a really good cause."
The night went really well; the pub was packed supporting Cai for his fundraising.
Special thanks go to: Graham Dale, Ffordd Derwen Proprietor who hosted the event and worked extremely hard to support Cai throughout his fundraiser and to Jack at Jack's Barbers who did the 'honours' by shaving Cai's hair and beard! Thank you to everyone who has sponsored Cai, we are extremely grateful for your support.
You can still sponsor Cai on his JustGiving page which will close this Friday, 24th March: www.justgiving.com/page/cai-hughes-headshave.
Thank you for your support!