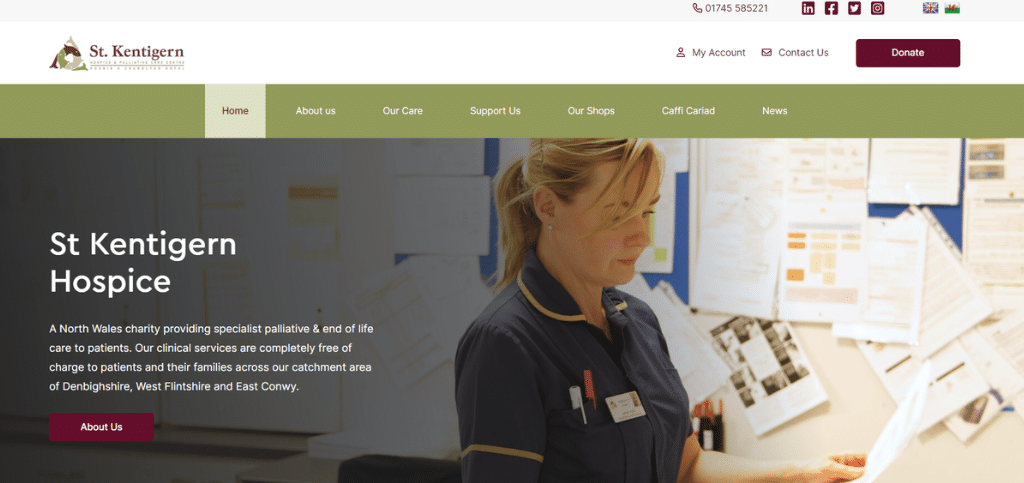 This week St Kentigern Hospice celebrated an exciting milestone by launching our new website. The team at the hospice has been working hard to create a website that is visually appealing, easy to navigate and user-friendly, with engaging and informative content that resonates with our community. We hope the website gives readers a glimpse into what we do and who we are. After all, St Kentigern Hospice is an organisation that is founded by the local community for the local community. Your donations help ensure we can offer our clinical services completely free of charge to patients and their families across central North Wales.
On our website you can now keep up to date with all our fundraising events and read our blog which is updated every week with stories about our Hospice Champions, upcoming fundraising events and general hospice news. You can also sign up to our lottery for only £1 per week and take part in our weekly draws with the chance to win our top prize of £1,000 or the top rollover prize of £6,000. The lottery is an important part of fundraising at the hospice. In only five weeks you could provide a patient's food for the day from our on-site café.
Find out more about Caffi Cariad which is located in the hospice, serving delicious home cooked breakfast, lunch and afternoon tea to the public Monday to Friday, 10am-4pm. Our menus are now online. To book a table simply follow us on Facebook and send us a message or phone 07887 477116. We offer a range of dishes to suit all dietary requirements.
We are constantly updating the website with new vacancies and volunteering opportunities. If you are seeking a role within the hospice keep an eye on our job vacancies page. Volunteering is a great way to support St Kentigern Hospice. We have roles within the main hospice reception, fundraising and events, wellbeing hwb, retail and in-patient unit. If you would like to volunteer please get in touch with our Volunteer Coordinator Sharon.newell@stkentigernhospice.org.uk
The launch of a new website requires careful planning, strategy and collaboration. If there is anything you think we can improve on please let us know by calling 01745 585221 or emailing mail@stkentigernhospice.org.uk