Caffi Cariad Menus
A warm welcome awaits visitors to our cafe. It is the heart of the hospice. Situated through the main building entrance Caffi Cariad serves a delicious menu of hot and cold food and drinks.
Breakfast menu
Lunch menu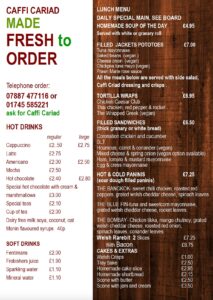 Signing up to the lottery is easy!
Each visit is enveloped in love and kindness. I feel that I belong and am a part of a very special family. The small services held by Sue one of the chaplains in the Chapel are peaceful and provide a great source of comfort.