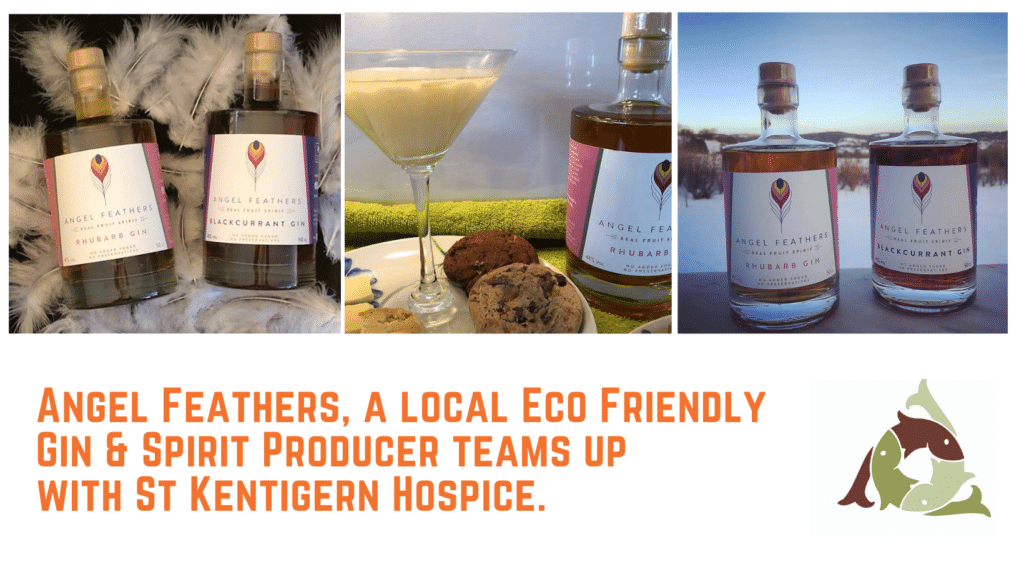 Angel Feathers is a small family run business with nature and sustainability at its core. All fruits and botanicals are home-grown and picked from their Moel Famau Micro Fruitery to ensure they capture the ripe flavours at their peak.
We have chosen Rhubarb and Blackcurrant flavours as they cater for different pallets. The rhubarb is light and refreshing whilst the blackcurrant is more of a full bodied gin. Both are equally fruity and both offer the warmth from the botanicals, in particular juniper.
Katharine Wilding, founder of Angel Feathers said: "We are very proud to be partnering with St Kentigern Hospice and donating proceeds from our Rhubarb and Blackcurrant Gins, which in turn will contribute and support the fantastic care and work our local hospice provides for the patients and their families.
This partnership is exciting and positive especially with the current situation with the pandemic and how it has drastically affected the hospice's fundraising efforts. We look forward to working with St Kentigern Hospice to grow our partnership further and raise vital funds."
The rhubarb gin is light and fruity with a lasting warmth from the juniper. It's extremely versatile in its simplicity, serve with an elderflower tonic, or a cream soda to enjoy the rhubarb crumble experience. Whilst the blackcurrant gin, also packed full of fruit is a more full bodied flavour. This is best served with a Sicilian lemonade or a lemon tonic to bring out the fruitiness in the gin. A grown up version of a popular childhood squash.
Hospice fundraiser, Wendy Clark, said "It's been an extremely challenging time for the Hospice during the pandemic and we are looking forward to building a strong partnership with Katharine at Angel Feathers – it's refreshing to have a new and exciting project for the hospice as we are now looking at creative and inventive ways of fundraising. In the future, we are looking forward to holding Gin Tasting events at the Hospice, once restrictions have been lifted".
A percentage of the sales (£5 from every standard bottle sold) will be donated to the hospice. Bottles priced at £43.50 (plus p&p) for 50cl.
The gin can be purchased directly from the Angel Feathers website at www.angelfeathers.co.uk