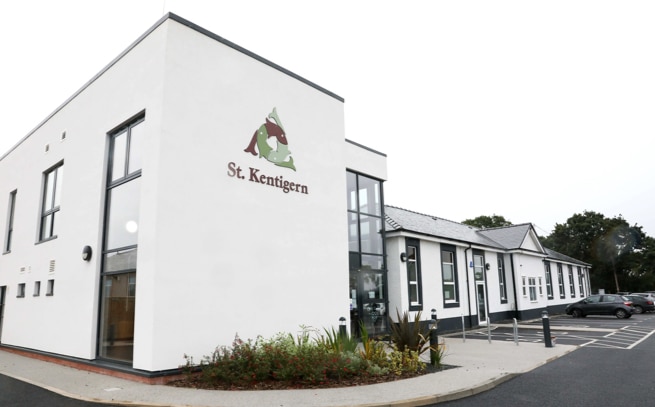 Hospice for the future
Refurbishing the hospice will allow us to stay in our current home, continue to care for the patients of the Vale of Clwyd and surrounding areas; making our Hospice fit for the future.
St Kentigern
For 25 years St Kentigern Hospice has provided specialist palliative care for the people of North Wales. We have cared for thousands of people with life-limiting illnesses and provided support for their families and friends.
Our Day Therapy Unit
The St Kentigern Day Therapy unit is located in the oldest part of the Hospice building. While the unit has undergone improvements and redecoration over the years, the layout and in-built services available have remained largely unchanged. Approximately 340 service users in total accessed the Hospice's Day Therapy services in the past year, which is increasing year on year and therefore the demand on space, staff and equipment is growing.
The diversity of conditions that patients arrive at the hospice with is increasing, and the complexity of their individual needs is changing. In particular the care of Dementia patients has proven challenging in the current environment, as the building was not constructed with this in mind, and facilities need updating in line with recommended care standards.
Our In-patient Care
With major advances in the early diagnosis and treatment of life-limiting illness, patients are now living longer post-diagnosis. From consultation with patients and relatives, we have also established that, while feedback is very positive regarding the care provided, an updated unit would better accommodate the needs of more patients in a more comfortable environment.
St Kentigern's 8-bed inpatient unit is busy with an increasing demand from people with a greater complexity of needs.As a result, we have developed a plan to refurbish its existing 8 bedrooms and reconfigure our inpatient unit to accommodate an additional 4 beds to meet the needs of patients and families today.
Nurse-led Model of Care
St Kentigern Hospice are proud of their Nurse-led model of care initiative which is attracting worldwide interest and being recommended as a model which is being rolled out across the country. Dinah Hickish, our Consultant Nurse leads the model which can admit patients, clinically assess them, initiate a program of care and prescribe the treatments. She said "There are a lot of hospices that are employing Advanced Nurse Practitioners now. That is happening more and more, but we're pretty unique at the moment because we are nurse led. There's been a lot of interest in the nurse-led model. We've even had a hospice from New Zealand get in touch to ask about it."